Steel sump guard for Audi A4 B5
110.08 £ - VAT exempt (19%)
Brand
Audi
Model
Audi A4
Year
1997 - 2000
Width
2 mm
Protects
engine, radiator, front bumper
Engine
petrol V6, 2.6, 2.8, diesel - 2.5 D
Weight
9.1 kg
Has an opening for the oil sump: Yes
It has an opening for the oil sump, so it's removal won't be necessary to change the oil.
Availability

In Stock
Recommended product
-5%
-5%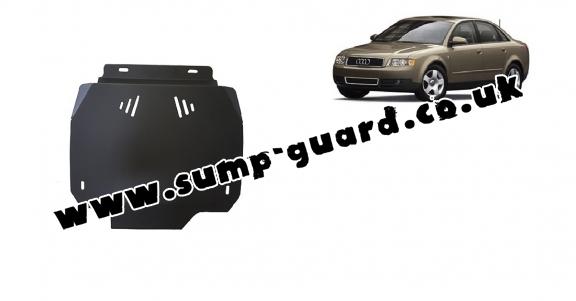 Technical specifications:
The sump guard is new and fits perfectly for the Audi A4 B5, with the following engine/drive versions: petrol V6, 2.6, 2.8, diesel - 2.5 D - manufactured between 1997 and 2000.
Sump guard for the protection of the: engine, radiator, front bumper
It has an opening for the oil sump, so it's removal won't be necessary to change the oil.
Made out of 2 mm thick steel plate.
Screws, nuts, clips, all fastening accessories are included.
All sump guards are powder coated to prevent corrosion.
The exterior of the sump guard is provided with steel reinforcements, which increases the resistance to impact.
The advantages:
Increased resistance against any impact or debris found on the road.
It covers the front compartment of the car, so the engine is more protected against dust and dirt.
Longer lifespan compared to sump guards made of plastic or fibre glass.
If you are not satisfied with the quality of our products, you can return it within 14 days.
Warranty:
24 months warranty offered.
Delivery conditions:
We use GLS to deliver our products for you.
The shipment costs are added directly to your basket before buying.
The delivery time is about 8-9 working days
Installation:
Delivered together with the installation manual that precisely describes the steps needed to be undertaken during mounting.
Every car has factory-made screw holes for fitting the sump guard, making mounting very easy . You can either do it yourself or at any auto-service point.
Fitting your sump guard does not require any mechanical alternations concerning vehicle structure.
Guaranty and handling of the car will not be affected.
Steel sump guard for Audi A4 B5
Good looking product, side panels abit of a disappointment as they lasted 5minutes and bent. Main guard amazing has had some abuse and stood up well! Installation was very simple with all fittings supplied
Steel sump guard for Audi A4 B5
Top Produkt hat einwandfrei gepasst, bis auf den Teil für das Getriebe welches für einen anderen Auspufftyp gewesen wäre. Aber nichts, dass sich nicht innert ein paar Minuten mit einer Flex lösen lässt. Super Qualität und 1A verpakt! Zu einem unschlagbaren Preis.
Steel sump guard for Audi A4 B5
passt super nur mal schauen wie lang er hält. Sonst top zufrieden.